When we tell the origin story of Chuckanut Builders we often wish we could say that we founded the company because we saw a need in Bellingham for builders who wanted to make a positive impact on the environment by building and remodeling high performance homes. The truth is, Ian and Forest were builders who loved the trade and were working for a company that had just shut its doors. In the aftermath of this change, a handful of us sat around a table at Boundary Bay Brewery to figure out what was next; Chuckanut Builders was next.
Since that day in 2010 a lot has happened. The need for high quality, high performance builders still exists in Bellingham and we're helping to fill it. But we're also aiming for something a bit loftier. Our focus is on building a resilient, sustainable community by bolstering the local economy and embracing innovation.  We do this by creating permanent, livable-wage employment in Bellingham; by working almost exclusively with local manufacturers and vendors; by collaborating with small local businesses through peer groups; by serving as board members on local non-profits and by relentlessly pursuing the science and art of building higher quality buildings.
We hope that our daily actions, both large and small, help to prove the adage that you get what you give. The community supported us in the early days, and still does, but more and more we're able to step up and support the community. We're green builders. We're also community builders, and our community is Bellingham.
Staff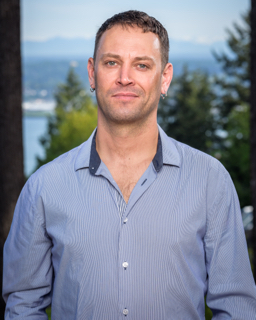 Forest Chiavario
Owner
A Bellingham native, Forest Chiavario is one of the founding owners of Chuckanut Builders.  He found his construction beginnings working with Whatcom County tradesmen in the mid 1990s.  He has since brandished his hammer in the Midwest, the Southwest and the Deep South before settling back home in Washington.  As Project Manager, Forest takes pride in the relationships created as he guides customers through the process of building their dream.
Ian Rae
Owner
Another Bellingham native, Ian started working in construction during high school, then left Whatcom County to spend time building in the San Juans and to study American history, astronomy and chemistry in college. College out of the way, he realized that his true passion was in the building trades.  After years of hands-on building, he began to enjoy the challenge of overseeing progressively larger and more intricate projects.  Ian brings a high degree of skill in project management and knowledge of green and energy efficient building techniques.
Adam Butler
Carpenter
Adam was raised in Madison, Connecticut and eventually migrated west to Bellingham. His construction career began in 2004 with Lowry Builders. While at Lowry Builders he began to learn the construction trade, working on both residential remodeling and new home construction. In his time off Adam spends time with his wife April and their two daughters. He enjoys fishing, hunting, grilling and hiking.
BJ Cassell
Building Performance Manager
BJ was brought up in SE Alaska, the Big Island of Hawaii, and the dirty south…of Washington State. He originally moved to Bellingham to attend WWU but spent some time traveling and exploring places much further away. After half a dozen years of migrating back and forth from Utah to Bellingham he decided to call Bellingham home.
BJ started working in the trades as soon as he could swing a hammer, with plenty of supervision from him Dad. In 2006 he got his first full time job as a carpenter. BJ is dedicated to balancing family, relationships and community with his drive for adventure and exploration. He also really likes cold beer and warm donuts.
Kendall Dodd
Office Manager
Kendall is from Portland, OR and landed in Bellingham in 2006, ready to settle in the Pacific Northwest after a few years of east coast life. She is a jack-of-all-trades who has spent most of her working life as an educator or a seamstress among other miscellaneous pursuits. Kendall is a home and building hobbyist and loves having the chance to learn new tricks from the skilled crew at Chuckanut Builders.
In her non-work time Kendall gardens, knits, tinkers on her house and helps to organize the Sunnyland Stomp, the best annual summer neighborhood art party in the best neighborhood in Bellingham.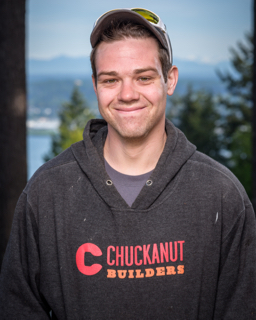 Richie Foster
Building Performance Technician
Born and raised in Bellingham, Richie embodies the values that symbolize our town. He loves being outside, spending time with his family, tinkering and building, and he's always up for an adventure.
In his words, "I like mountains, climbing, skiing, biking. Adventure is a must."
Tyson geBauer
Site Superintendent
The trades brought Tyson to Bellingham and the mountains kept him here. A Washington native, Tyson started working in construction in the early 90's, working as a carpenter and estimator in residential and commercial construction. He made a career change in 2009 only to realize that he missed working in the field and helping clients build their dream home. When Tyson isn't working he is likely spending time with his daughter and teaching her the finer points of leading a life of adventure! He also enjoys climbing and skiing with his partner Hilary.
Ely Holmes
Carpenter
Ely made the long trek from North Pole, Alaska to Bellingham in 2012. He has worked as a carpenter for years and became interested in building science and weatherization after seeing it's impact on the health impacts and increased durability of homes. This interest lead him to the weatherization field. Ely enjoys exploring Whatcom County with his wife and kids, especially snowboarding, hiking, fishing, and camping.
Mike McCauley
Site Superintendent
Another Washington native, Mike hails from Chehalis. Before making his home in Bellingham, Mike joined the Marines and later completed a Bachelor of Science degree at Evergreen State College. He moved to Bellingham in 1998 to attend WWU where he completed a master's degree in Resource Management. He later started McCauley Builders, working as a general contractor with an emphasis on green building. In 2010 Mike was elected to Whatcom County Port Commissioner. Three years later he joined Chuckanut Builders as a Site Superintendent. In his words, "I joined Chuckanut Builders because of their business ethics and because of the direction that business is headed."
Jenny Rae
Communications Director
Having wandered far and wide Jenny is happy to now call Bellingham home. Her enthusiasm for the Bellingham community is pretty apparent on all of Chuckanut Builders social media platforms. Jenny is also Ian Rae's wife and mother to Chuckanut Builders youngest builders, Abel and Waylon Rae. Most days Jenny can be found wrangling the boys, growing veggies and raising critters, or spending time in the mountains hiking with Ian, Abel and Waylon.
Chris Tretwold
Site Superintendent
Chris was born in Bellingham and never felt the urge to call another place home. He started working in the trades when a good friend, who owned a framing business, took him under his wing and taught him how to build things right and have fun doing it. This, coupled with the joy Chris has always found in working with his hands lead him to working on larger, more technical projects. He helped build the Birch Case study house as well as two small, high performance off-the-grid cabins on Eliza Island.
Chris enjoys the entire building process, from helping folks come up with their plans to crafting the details that make a high performance, healthy, sustainable home.
Chris spends his free time with friends and family, whitewater kayaking, snowboarding, surfing, BBQ's, cooking, and generally just being outside.
Sara Tomczak
Interior Design Project Manager
A native Washingtonian, Sara was raised in Redmond, Washington. Sara's interest in building design and architecture started early. In junior high and high school she took architectural electives, eventually pursuing a Master's degree in Architecture at the NewSchool of Architecture & Design in San Diego. Before joining the crew at Chuckanut Builders she worked as a project manager for Carletti Architects in Mount Vernon.
Sara moved to Whatcom County in 2013, building a house with her husband on the south end of Lake Whatcom. In her free-time Sara enjoys playing a variety of sports, working on house projects, hosting friends and family, and spending time with her husband and young daughter.